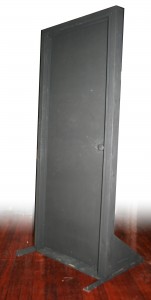 Drama Magic has added a new item to their list of Stage Set and Props items.
Stage Door B  –  A Free-standing door with Steel Legs
Important information
Our registered builder  has recent  experience of working with Opera New Zealand.
Personal consultation at no cost during the quote phase offered.
We can design and build additional items on request to suit your needs including school production stage sets.
All items are OSH compliant.
Stage set and props items are built with quality, durable ply woods, and are painted matt white or black,  to your specifications.
Our  robust but lightweight set items are deliberately designed to fit together in terms of their relative heights for ease of movement by students.
1) Free standing stage door (with side or reverse bracing)
2) Three Panel Accordion flats
3) Single Flats (able to be bolted together)
4) Bi-fold Flats
5) Sandbags (for Flat stability).
6) Cubes (Two sizes)
7) Platforms (Three sizes)
8) Other items on request
Drama Magic Ltd is located in Auckland, and we can quote for and arrange delivery throughout New Zealand.
Contact us now for your no obligation free quote and list of product sizing and specifications :  info@dramamagic.com
List your details:
Name:
Contact email address:
School name :
School Address: