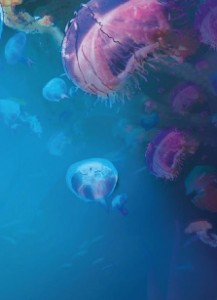 Science and Mantle of the Expert Drama Resources for Little Green Man's production of Journey to the Deep are now online on the Department of Conservation website. The resources have been created by Susan Battye of Drama Magic for the Department of Conservation. To support the production, DOC has created additional pre and post-show educational resources, available on the department's website.
Bookings for school visits to Journey to the Deep are now open until the 11th of November.
The Department of Conservation (DOC) is actively supporting Journey to the Deep, a theatrical production for children and family groups, by producing education resources for schools, holiday programmes and families that are linked to the show.
Journey to the Deep is an innovative and interactive experience running daily from now until mid-November at Silo Park at the Wynyard Quarter on Auckland's waterfront.
Children and adults make their way through the silos at the Silo Park, meeting a cast of sea creatures that show the mystery and beauty that lies beneath the sea.
DOC's senior education advisor Pam Crisp says the department has no hesitation in endorsing the unique production and its marine conservation messages.
"Aucklanders are fortunate to have the wonderful Hauraki Gulf Marine Park on their doorstep. Journey to the Deep opens their eyes to the beauty of that hidden world and the need to protect and preserve it" says Pam Crisp.
The resources are designed to:
Prepare students for the performance
Create a sense of wonder and curiosity about the marine world
Develop children's literacy, thinking, investigative and communication skills
Develop their understanding, of the place of the sea to their everyday lives – for example, by exploring links between healthy rivers, healthy oceans and the fish they might eat
Inspire them to work together to find creative solutions to the issues they have identified, and take action in their own local environment
The resource will support the competencies, values and achievement objectives of the school curriculum and Te Marautanga o Aotearoa, with particular emphasis on English/Te Reo Päkeha; The Arts/ Ngä Toi; and Science/ Pütaiao.