In 2019 had the privilege of editing Norma Pretscherer's recently published memoir, 'A Skylark Sings'. Co-written with Karen Jarvis, this delightful book is guaranteed to entertain. Contact Maria de Jong at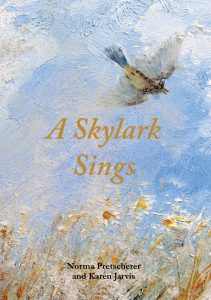 Life Stories NZ to obtain a copy.
Synopsis
Norma grew up on an isolated South Canterbury farm. Her father, a struggling World War I veteran, raised 10 children on his own. She recalls wearing underpants sewn from soft cotton flour bags and sleeping under potato sacks for warmth in bitterly cold winters. Freezing nights, like the one when her sister went missing.
Norma's nursing career reveals how times have changed in the profession and in the care and treatment of patients. She recounts moving stories of kindness and compassion, along with a good dose of humour, such as the morning she handed her elderly patients the wrong dentures! Norma does not flinch from shrewd perceptions when reflecting on bringing up her own children and helping husband Gus run his successful Remuera hair salon, at one time the largest salon in Australasia.
210 x 148 mm, 245 pages, colour, softcover
ISBN: 978-0-473-48027-1
Cost: $30
Life Story Publishing
www.lifestories.co.nz