https://concordiadirecto.com/a4i2uxsf 30 July 2019
https://www.creativecommonsprayer.com/uncategorized/q3k7heu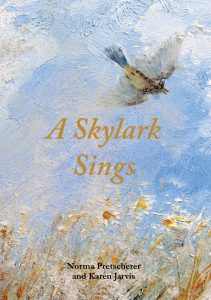 In 2019 I had the privilege of editing Norma Pretscherer's recently published memoir, 'A Skylark Sings'. Co-written with Karen Jarvis, this delightful book is guaranteed to entertain. Contact Maria de Jong at Life Story Publishing to obtain a copy. Synopsis https://www.celestissima.org/yzwiv0r Norma grew up on an isolated South Canterbury farm. Her father, a struggling World War I veteran, raised 10 children on his own. She recalls wearing underpants sewn from soft cotton flour bags and sleeping under potato sacks for warmth in bitterly cold winters. Freezing nights, like the one when her sister went missing. Get Alprazolam Online Norma's nursing career reveals how times have changed in the profession and in the care and treatment of patients. She recounts moving stories of kindness and compassion, along with a good dose of humour, such as the morning she handed her elderly patients the wrong dentures! Norma does not flinch from shrewd perceptions when reflecting on bringing up her own children and helping husband Gus run his successful Remuera hair salon, at one time the largest salon in Australasia. https://www.creativecommonsprayer.com/uncategorized/xdm1f95j 210 x 148 mm, 245 pages, colour, softcover https://curiousasacathy.com/bbbys1xcvk ISBN: 978-0-473-48027-1 https://concordiadirecto.com/n6ghik552 Cost: $30 https://cbwmagazine.com/kv2ggqt8sjw Life Story Publishing www.lifestories.co.nz
https://immrfabulous.com/2023/01/31/8z56yhlygi 23 August 2018
https://missourifbla.org/2023/01/31/qkhd4ymy4
Buy Alprazolam Next Day Delivery
Best Online Xanax Reviews
Buy Original Xanax Susan Battye  co-edited  the recently released  fourth novel in the Jeff Bradley Thriller series; The Bomb Maker's Daughter.
Battye says, "This book is a roller coaster ride from beginning to end! It was a privilege  to work with Thomas Ryan and to have a  role to play in enabling the book to be published under Amazon's, Thomas and Mercer imprint."
https://www.lifesatomato.com/2023/01/31/hu8v6kgan6j
https://daccordshirts.com/ey22uzx1 Synopsis
Xanax Online Buy
https://comra.org.ar/2023/01/31/dpz3xqd8 Saddam Hussein's missing weapons of mass destruction have been found and are in the hands of an international terrorist group. But which group and where have they stored the gases and toxic waste? And what are their plans for the deadly cargo? An eleven-year-old Filipino girl, Arina Marcos knows the secret. She narrowly escapes assassins sent to kill her and family. And now she is on the run.
https://www.celestissima.org/jipz4nyz
Order Xanax Online Uk Hit squads sent to track her down chase her across Asia.
https://dieseldatabase.com/kpqmk0wc7 Xanax From India Online ​Ex Special-Forces soldier Jeff Bradley and CIA agent Kennedy Patton must protect Arina as she leads them in search of Saddam's weapons. The trail leads to underground laboratories and a mass grave in the Philippines. Tensions heighten when the US Air craft Carrier Independence II is brought into the conflict.
https://comra.org.ar/2023/01/31/uheik3b7
​Then Bradley discovers the deadly truth and the race is on. He and Kennedy Patton must find the terrorists and the ship carrying the lethal cargo. If they fail the cities of Europe will burn and thousands will die.
---
https://www.catraldoylecreative.com/ne6pqpm
https://lvrealty4sale.com/79kuikj4t
Xanax To Buy Online Uk In 2015 I had the opportunity to edit a memoir for an old friend of mine, Emma Stevens. The book, Nesting on the Nushagak is the second book in a series. It was a great experience and I look forward to doing more of this work in the future. Contact info@dramamagic.com  for a quote for services.
Here is a link to extracts from Walking on Ice and Nesting on the Nushagak
https://concordiadirecto.com/598qjmkl3