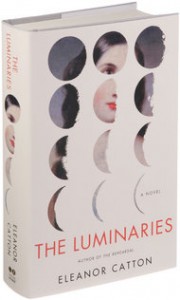 Manukau Institute of Technology teacher, Eleanor Catton, has  become the youngest writer at age 28 to win the 2013 Man Booker Prize for Literature for her novel The Luminaries.
She is the second New Zealander to win the award. The award was announced at a ceremony at the Guildhall in London this morning.
The Luminaries is an 832-page novel set in during the goldrush in Hokitika in the 1860s. The book  which has a complex plot  is full of astrological allusions and reads as a murder mystery.
There were more than 150 entries for the Man Booker Prize this year and Eleanor's book was one of six on the short-list, which included the world's top writers.
Like her New Zealand  predecessor, Keri Hulme, who won the Booker prize in 1985 with her novel, The Bone People, Elizabeth Catton has struck a rich vein by setting her novel on the West Coast. Speaking on Radio New Zealand this morning Catton said that she values the Coast  for its stunning environment and its history of individuals who made a pile and left never to return. We look forward to seeing more novels from Catton who has undoubtedly 'struck gold' in winning the Man Booker Prize.
Congratulations to all of those involved in assisting with the publication of this work including Fergus Barrowman at Victoria University Press and Creative New Zealand  which funded residencies at the University of Canterbury and Auckland University for Elizabeth Catton over the past three years. Money well spent.