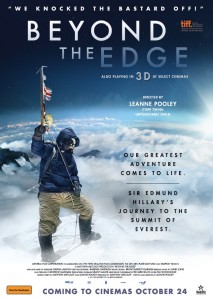 The New Zealand Film Commission reports that the Sir Edmund Hillary epic Beyond The Edge has knocked off its own record, achieving the highest grossing opening weekend for any documentary in New Zealand.
Written and directed by Leanne Pooley and produced by Matthew Metcalfe, Beyond The Edge opened in New Zealand cinemas in 2D and 3D on October 24 and reached a total box office of $320,170 for its first five days.
Susan Battye, Managing Director of Drama Magic Ltd, congratulates Director, Leanne Pooley and Producer Mathew Metcalfe on this fantastic achievement.
The previous box office opening record for a New Zealand documentary is also held by Leanne Pooley, for her film The Topp Twins: Untouchable Girls.
Beyond The Edge is a General Film Corporation Film supported by the New Zealand Film Commission, NZ On Air's Platinum Fund, Digifilm, TVNZ, Rialto Distribution and the New Zealand Government's Screen Production Incentive Fund.
You can download a copy of the Beyond the Edge School's Resource for English and Media Studies created by Susan Battye for Rialto Distribution here. Beyond the Edge Study Guide. New Zealand Schools wishing to organise a dedicated screening for their students or enquire about school pricing can contact Kelly Rogers at Rialto Distribution Email: kelly@rialtodistribution.com