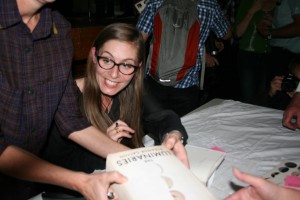 Eleanor Catton, author of the Man Booker Prize winning novel, The Luminaries, appeared  in Hokitika on Thursday 13 March for a special one-off event. A long time West Coast supporter and former Greymouth High School teacher, Susan Battye  of Drama Magic was there to witness the unique event.
 The award-winning novel, which has been on the best-selling lists in New Zealand since its publication in August, is set in Hokitika during the 19th century gold rush. It was obvious that Catton was delighted to be able to come to Hokitika to talk to readers and that they in turn were keen to congratulate her on her win and acknowledge the hard work that she must have put into writing the book.
Accompanying Catton were her New Zealand publisher, Fergus Barrowman of Victoria University Press, and her UK publisher, Max Porter of Granta.
Catton was in conversation with Max Porter for the hour-long session which was held at Hokitika's Regent Theatre on Thursday 13 March 2014. A full house of 470 listened attentively to the talk before rushing to have their copies of The Luminaries signed.
During the event Fergus Barrowman proudly announced that New Zealand sales of The Luminaries have passed a record breaking 100,000 mark.
There was some suggestion that Catton was a little nervous about receiving questions as to the historical veracity of her novel. What became clear was that the astrological references, the Hokitika location and the date of the gold rush are true, as is the local ancestral name of Tau Whare, although the character himself is invented. The rest of the novel is, according to Catton, a work of fiction rather than history. But that has not stopped people from searching Hokitika for places mentioned in the book!
The success of The Luminaries has seen Catton much in demand internationally and she has been overseas promoting and talking about the book to media and book festivals since the Man Booker Prize was announced in October. She will spend the best part of next year as a guest at literature festivals in Europe, Brazil, the USA and Canada.
'An evening with Eleanor Catton' was proudly organised by Victoria University Press, Take Note Hokitika and Hokitika's Regent Theatre and with the support of the Hokitika Museum which supplied a wonderful historical slide show for the event.