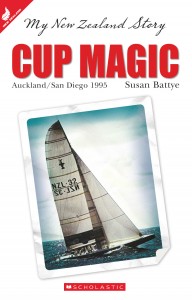 NZ Book Reviewer and contributor to the Australian Book Trade magazine, The Source, Trevor Agnew, writes:
Man, did I feel proud to be a Kiwi. The latest volume in the My New Zealand Story series is a boy's-eye-view of New Zealand's 1995 America's Cup yachting victory. When young Mike Lucas is sent to live with his grandparents, he thinks his parents are divorcing. In fact his mother, a sail-maker, and his father, a boat-builder, have been recruited for Team New Zealand's highly security-conscious America's Cup campaign. His grandparents introduce Mark into the world of yachting through fitting-out and sailing his father's old P-class dinghy. Thus the first part of Mark's fact-filled diary brings the reader up to date on New Zealand yachting history and personalities. His parents show him through the various workshops where the hulls and sails are being created, and Mike suggests the name Black Magic for the yacht.
In Part 2, Mike goes with his parents to San Diego, California, and witnesses the intense preparations and key events in the qualifying races. He describes the yachting duels that culminate in Black Magic's triumph, and their joyous homecoming.
Mike is an endearing and observant writer. Although his journal is probably a more heavily detailed account than a real 11-year-old would produce, it is good to remind a new generation of such crucial objects as New Zealand's lucky red socks.
The usual Historical Note and collection of historic photographs are included. There are no maps or suggestions for further reading.
Themes in this book:
Auckland city, NZ.   Boats and ships. New Zealand-history. Sailing and   sailors.
| | | | | | |
| --- | --- | --- | --- | --- | --- |
| Publisher:    | Scholastic NZ | Binding:    | Paper back | 13 Digit ISBN:   | 978 1 77543 112 1 |