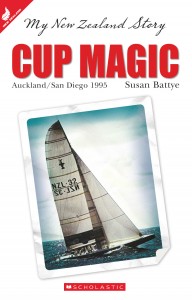 Waikato Times Your Weekend Magazine on  Saturday 27 July 2013.
Elizabeth Gardner wrote:
Cup Magic
By Susan Battye
Scholastic ISBN 9781775430285
Pull out your lucky red socks and relive New Zealand history in this tale set around the 1995 America's Cup challenge. Cup Magic is told through the eyes of intermediate-age boy Mike Lucas, who has been sent to live with his grandparents while his parents are involved in secret Team New Zealand work. This well-told tale, written in diary format, brings to life the excitement and joy that New Zealanders put behind Black Magic and the America's Cup. It provides education in this historic event and sailing terminology for older primary students and above.