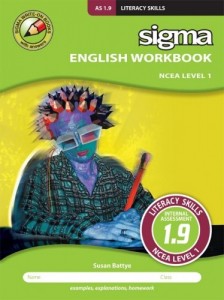 English Workbook NCEA Level 1AS 1.9 INFORMATION LITERACY SKILLS
Authors : Susan Battye and David WortTITLE AVAILABLE TO PURCHASE NOWThe Sigma Workbook 'AS 1.9 Information Literacy Skills' is a write-on student workbook covering the English skills needed to gain Achieved, Merit, or Excellence in this NCEA Level 1 Achievement Standard. The work in this book covers only Achievement Standard 1.9 (AS90853).
This new workbook contains a large number of write-on student tasks designed to enable students to practise the necessary skills which will bring a deeper understanding to this area of the New Zealand English curriculum. Students will also find a large numberdetailed instruction boxes, glossaries and English resources that will help them develop the ideas and processes needed to gain a high level pass in the internal assessment for this Standard.
The full research process and all associated skills are explored in this workbook. A collection of Reading Logs, Templates, Summary Sheets, Formal Approach Letters and Teacher Checkpoints help keep students on task and able to meet deadlines. All research skills are looked at in detail including research conducted on the internet. Students develop techniques that help them cover a large amount of information and identify and summarise the most relevant facts for their topic. A Model Report is included showing exactly where the phrases that gain achievement, merit and excellence passes are located. An abbreviated version of Achievement Standard 1.9 is included in the resource.Write-on student workbook
Year 11 students studying
Level 1 NCEA EnglishProvides full coverage of NCEA
Achievement Standard 1.9
Literacy SkillsTotal of 4 Credits
Internally AssessedAuthors :
S. Battye and D.J. Wort60 pages 
(includes a full set of answers)
First EditionISBN: 978-1-877567-49-0
Purchase Ref: EWB1.9
For a list of retailers see: http://sigmapublications.co.nz/retailers.php